Finances & Divorce
Money & Divorce: Costly Mistakes You Don't Want to Make: 10 Financial Mistakes and How to Avoid Them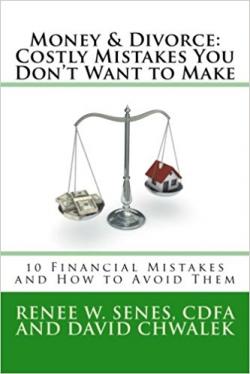 by Renee W. Senes, CDFA and David Chwalek
"If you are contemplating divorce, starting the process, in mediation or looking at settlement options, this book could be for you. We'll look at common financial mistakes that are often made in divorce settlements and discuss how to avoid them. You'll gain an understanding of how issues around cash flow, liquidity, income taxes, capital gains, retirement account rules, insurance, debt and credit could impact your future well-being. 'Money & Divorce: Costly Mistakes You Don't Want to Make' can provide you with the tools and information to use in negotiating a fair settlement and to understand how to live and pay your bills after the divorce."
The Financially Smart Divorce
by J.A. Licciardello, CDFA
"Helpful tool for those considering or undergoing the divorce process from both a general and financial standpoint. Very well organized with helpful tips, action steps, and bulleted information."