Divorce, Separation, Relationships
Aftermarriage: The Myth of Divorce
by Anita Wyzanski Robboy
"Ms. Robboy explores the five types of marital bargains that become evident in the unraveling of a marriage. It is a necessary tool for everyone: for those getting married as well as those contemplating or going through a divorce. The book is not only a road map to the divorce process but also an insightful look into the meaning of the institution of marriage as defined in the law."
Divorce Doesn't Have to Be That Way: A Handbook for the Helping Professional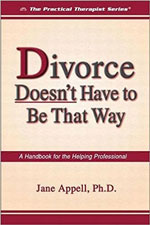 by Jane Appell
"DIVORCE DOESN'T HAVE TO BE THAT WAY is a comprehensive guide to divorce counseling for therapists and others who work with divorcing couples. This practical handbook has been written specifically for helping professionals who want to give healthy support to their clients throughout the divorce process. The emphasis is on a family-centered, non-adversarial approach. Among the key topics: working with "problem" personalities, domestic abuse, custody, alternatives to litigation."
Boundaries and Relationships : Knowing, Protecting, and Enjoying the Self
by Charles Whitfield and John Amodeo
A renowned psychotherapist explores healthy and unhealthy relationships and personal boundaries, with self-assessment tests, descriptions of ten types of human interaction, and more.
What Would Love Do Now?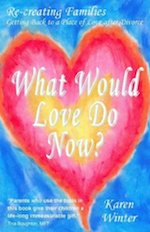 by Karen Winter
"I liked this book because it truly caused me to think differently about relationships. If you seem to be stuck in a rut with respect to relationships you might want to take a chance on this book. I think this book is good for single and married individuals alike."
Make Any Divorce Better!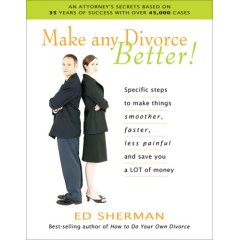 by Ed Sherman
"Divorce is a difficult passage, but there are practical things any couple can do, individually or together, to make the transition as painless as possible. Author Ed Sherman, an attorney with 35 years of experience and over 45,000 successful cases, shows how most divorces fit one of five profiles. He helps readers discover their profile then leads them through the process, step by step, of overcoming what can otherwise turn into major mental and monetary roadblocks."
What Every Woman Should Know about Divorce and Custody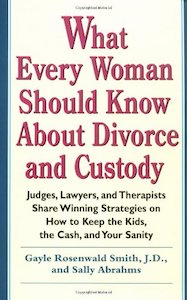 by Gayle Rosenwald Smith and Sally Abrahms
A complete insider's guide filled with crucial advice from judges, attorneys, therapists, mediators, etc. Covers legal, psychological, and financial issues, how to handle specific situations and issues, strategies and tactics to make women prepared and stronger while going through divorce.
Uncoupling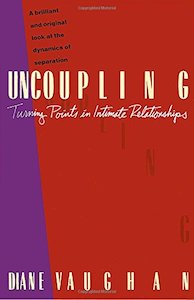 by Diane Vaughn
"Based on ten years' research, this is the only book of its type on the market today. It explains in lucid and engaging detail the turning points in intimate relationships showing that there are basic similar patterns. Vaughan's extensive use of interviews of both straight and gay couples, married and live-ins, makes her book lively and interesting. "